Monkey Island Winery & Cottages
Monkey Island Winery & Cottages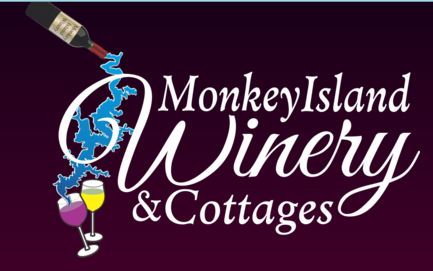 Monkey Island Winery was started at Royal Horse Ranch in 2010 and re-opened the fall of 2017. They are fermenting and bottling wine made from purchased juice, along with Cynthiana/Norton from their home vineyards along with Pear, Peach and Blackberry wines from Monkey Island fruit.
Their journey to winemaking began in 2004 with the establishment of "Grand Lake Vineyards". They planted 50 Cynthiana/Norton vines, 50 Chardonel (a cross of Chardonnay x Sevyal, first cloned in 1953) and 25 Grafted Cabernet Sauvignon. They planted an additional 500 vines in 2005 followed by 108 Grafted Cabernet Sauvignon at a development named "Cabernet Bay" in 2006 and 2007.
Val has been collecting wines since 1970 in Boston, taught Dining Room Service for "Johnson and Wales Culinary School" in 1980, and opened "The Forum", a high-end Italian restaurant in Providence where he wrote the wine list. He increased his wine knowledge in Chicago managing the "Wine Room" at the "95th Restaurant" for 5 years in the John Hancock Building. He hosted, along with Michael Broadbent, the pre-auction dinner for Christies Auction House, handling wines going back to the 1800's. Val has also been a Server, General Manager, Head Chef, and Wine Contributor for several Chicago papers.