The Anchor Activity Park at Shangri-La
The Anchor Activity Park at Shangri-La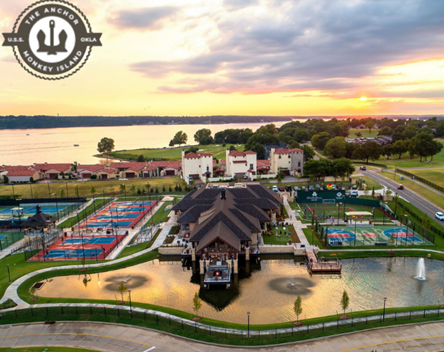 "The Anchor," a $12 million indoor/outdoor activity park is the only such multi-purpose activity park of its kind between Kansas City, MO and Dallas, TX.

The 11,000 square foot indoor facility features Hologate state of the art virtual reality games,Trackman golf simulators, Laser Shot shooting simulators, CXC driving and flight simulators, arcade games, pop-a-shot basketball, billiards and ping-pong tables, shuffleboard, darts, a plethora of sporting event video screens, and the most inviting indoor-outdoor bar & lounge on Grand Lake.
The Trackman Golf Simulators include the ability for golfers to play all 27 holes of Shangri-La's legendary course – rain or shine! With two Trackman simulators, players are able to refine their game including an ability to play the entire 27-hole Shangri-La Championship golf course, as well as multiple courses around the world – virtually.
Outdoors, The Anchor Activity Park at Shangri-La includes a new racquet club facility with four outdoor tennis courts, six pickleball courts, basketball, sand volleyball, fire pits, a kids' fishing pond, an outdoor event area, and a mini-Fenway WIFFLE BALL, providing fun for kids of all ages. There is even an opportunity for inclement weather indoor tennis and pickleball play under a gigantic, heated dome.
Another important outdoor feature is the inspiration for the name of the facility - a replica of one of the original anchors from the USS Oklahoma battleship which is proudly displayed across from the new facility and displays the names of the 429 personnel who perished on the vessel when it was attacked at Pearl Harbor in 1941.